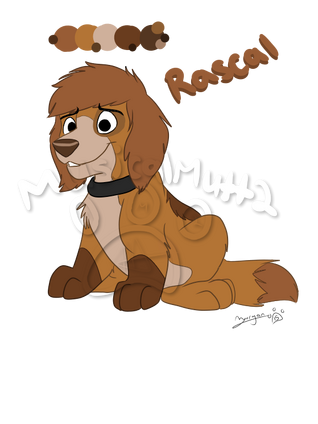 Rascal is the son of Dixie and Cash, brother of Martina .
Appearance
Rascal has a bit of an unkempt appearance with his fur, which is cut slightly like his mom's, but is more fuzzy and messy. He's got an orange-brown body with a tan muzzle and belly. He's got two brown socks on his front paws and a spot on his back. He's got a light brown patch on his left eye and a lighter orange-brown tail tip. He has a brown nose and a dark gray collar.
Personality
Rascal is very adventerous and a bit of a rambuntious ball of fur. He's not one to listen to his mom when she wants to bathe them, but is otherwise a friendly and warm-hearted little boy.
Trivia
At first, Rascal was NOT a good singer, but he learned over time
He adores his older cousin Molly and loves to follow her around
Is a bit of a mama's boy despite not wanting to take baths most of the time
He doesn't like Molly's boyfriend, Tucker . He's very suspicious of him
He was named after Rascal Flatts
he loves his second cousins- they call him "Uncle Rascal" and he loves entertaining them
He has a crush on Tod and vixie's daughter
Gallery