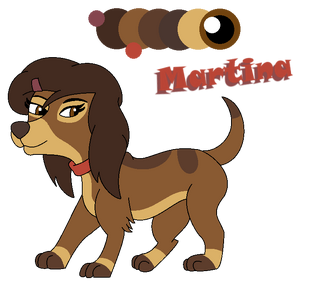 Martina is the young spirited pup of Dixie and Cash~ She has a brother named Rascal.
Appearance
Edit
Martina is a brown pup with two darker brown spots on her back and the toes of her paws. Her muzzle, chest, and stomach are a tan color. She has tan socks with darker brown toes too. Her eye patchest are tan as well. She has similar 'hair' like her mom's that's a darker brown than her spots and she has brown colored eyes. 
Personality
Edit
Even though she looks clean and nice, this country pup loves to get down and dirty with the rest of the pups. She doesn't care what who says she absolutely hates baths and is usually made by her mom. She loves playing with her brother, and hangin with her cousin Molly. She will usually be beside Granny Rose. She loves listening to the story when they met Copper and what went on during that time to bring her parents together.
Martina is a sucker for romance
She loves playing and messing with her brother
Keep her away from a pig pen, she sees it she dives on in
She was named after Martina McBride