A  
Chris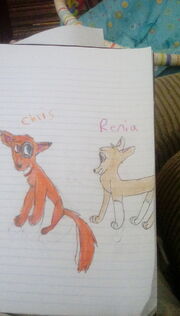 'Chris is a hyper fox . Who is 15 mins younger that his sister Renia . This little cute fox is full of trouble  and sometimes listens to his parents . If want to do what you want , this fox is the right friend for you XD . His best friends are  Reina ( well ya she's his older sis ) jay and Darla's pup cowboy , and his bff is rocky and Katie's coyote pup ' rox . ( not Roxy its a boy ) . He hates to be in timeout its his worst night mear . 
Chrises Appearers : 
full orange a circle around his eye and white fur under his tail  . his left eye is pink and his right eye is blue .
Renia : 
The sweetes fox you will ever meet is Renia , She is a tomboy and loves to play in the mud with her brother and her friends , she loves to eat squirrels , Bunny's and bears ( well the god parents are wolfs so they are the ones who Hunt the bear . ) She admires the singing strays , just like her mom growing up . Her favorite singer is trixe and my oc Fifi . She loves to go out an go on adventure just like her brother , her mom and father .
Renias looks 
tan fur a white sock on her right front aand back left . she has pink eyes .
TRIVA 
thse are my first second generation ocs on this fanon.
There god parents are there dads cloes friend and one of oc Jay , and his wife Darla , ( they are both wolfs ) 
Renia
Renia
Renia

Vital statistics

Position
The oldest of the litter .
Age
6
Status
Nice , happy and tom boy

Physical attributes

Height
1 in a half ft
Weight
Unknown
.    
Chris
Chris and his sister Renia

Vital statistics

Position
Youngest
Age
6 by 15 min from his sister
Status
Nice , hyper ,loving and caring

Physical attributes

Height
A little smaller. Than his sister
Weight
Unknown
.